Tiny Travel Scissors, Super Snip Scissors
Super Small, Very Precise, and Safe for travelling. These colorful mini snip scissors are great for snipping loose threads, woven labels, cording, elastics and pretty much anything else!!!
These travel scissors are super sharp and super pointy. They come with a safety cover so it won't damage your bag, purse, or yourself.
The blades are short enough that they meet the dangerous goods flying regulations and you can take them on a plane.
Colors vary, if you have a preference please state it in the comments box when you check out and we will try to accommodate if we have it in stock. Otherwise, we'll remotely sense your aura, and pick the best color for your chakras!
Size: 2 3/4" x 1 3/4"
---
We Also Love...
---
Customer Reviews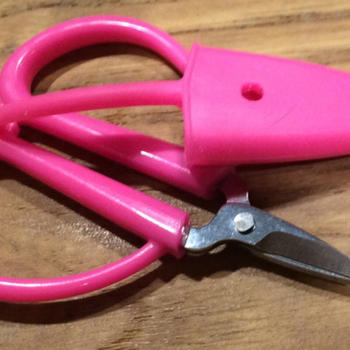 11/18/2018
Great Size
I love the size of these teeny scissors for tucking into my travel knitting bag.
04/06/2020
Super cute little scissors! Great price, too.
01/27/2020
Awesome Little Scissors
These are the perfect travel scissors! I purchased 20 pairs as a small Valentine's Day gift for the ladies who participate in a quilt retreat with me because they are reasonably priced and the perfect tool for a quilter to keep close to her sewing machine.
08/28/2019
Perfect for Travel
Awesome little scissors, very sharp, cut well, so far they've passed through TSA at multiple airports.
06/04/2019
Perfect Service
Fast perfect service! Love this product as well.
02/08/2019
Quick Shipping
Thanks for the quick shipping with the yellow teeny tiny scissors. They are perfect!