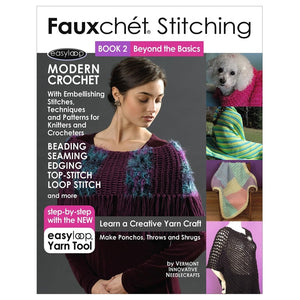 Fauxchet Stitching Book 2: Beyond the Basics
Fauxchet-Stitching Book 2: Beyond The Basics is your ultimate guide to taking your Fauxchet skills to the next level!
Unlock the Power of Fauxchet:
Building on the success of Book 1, this sequel is designed to empower you with an arsenal of 64 pages filled with step-by-step embellishing stitches, cutting-edge techniques, and captivating patterns. Crafted with the utmost precision, Fauxchet-Stitching Book 2 is your key to creating stunning ponchos, cozy throws, and stylish shrugs.
Unleash Your Creativity:
With Fauxchet-Stitching Book 2, you'll not only expand your skills but also embark on a journey of artistic expression. Learn the art of beading, master seaming techniques, delve into the world of loop stitches, and explore the captivating realm of embellishments. This book is not just for Fauxchet enthusiasts; it's also a treasure trove of perfect finishing techniques for both knitters and crocheters.
What's Inside:
Create your own ponchos, throws, and shrugs with ease, thanks to detailed, easy-to-follow instructions.
Explore ten special techniques that will set your projects apart and infuse them with creativity.
Dive into six different projects, each offering a unique and exciting crafting experience.
Fauxchet-Stitching Book 2 is more than just a book; it's your passport to a world of crafting excellence. Whether you're a seasoned Fauxchet expert or just starting your creative journey, this book will inspire and guide you every step of the way.
Craft unique masterpieces that will leave everyone in awe. Get your copy today and begin your journey to fauxchet greatness!
Published by Vermont Innovative Needlecrafts in 2012
Paperback, 64 Pages, English