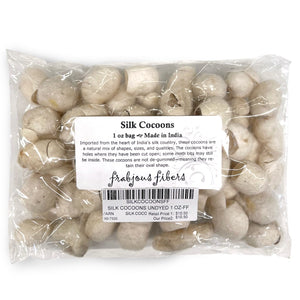 Undyed Silk Cocoons, 1 Ounce by Frabjous Fibers
These quality silk cocoons, sourced from India's renowned silk country, are the starting points of all silk products.
It takes 2000-3000 cocoons to make just one pound of silk. These unbleached and undegummed cocoons come in a variety of shapes, sizes, and qualities, and may contain a few moth bits.
Each clear bag contains an approximate 1 oz. of silk cocoons, or roughly 60 individual cocoons.
You can hand-dye the cocoons with your favorite dyes to make stunning silk creations.
Color your way to a custom-crafted accessory.
---
We Also Love...