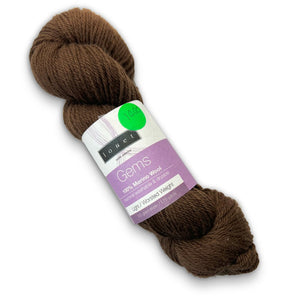 Gems Worsted by Louet
Gems 100% merino yarn is a dream for sweaters!
Machine washable & dryable. It is a true worsted yarn with a tight twist to minimize pilling while maintaining a high elasticity. This combination allows for excellent stitch definition, making cable designs truly come to life.
Gems is custom-spun for Louet from non-mulesed sheep. Pressure-dyed for consistent color that is spectacular for crisp colorwork patterns.
100% Merino Yarn
Pill-resistant and hard-wearing
Prickle-proof and scrumptiously soft
Machine wash & dry
Amazing stitch definition
Available in 47 colors
Available in 3 weights: Fingering, Sport and Worsted. The same colorways are available in all 3 weights for optimum flexibility for your knitting creativity.
Gems is a worsted spun yarn. 22 micron fibers. You'll love it!
What makes worsted spun different? All fibers combed. Short fibers removed. Remaining fibers aligned & spun. Yum. Gems yarns use only merino fibers with a 90mm (3.6") minimum staple length.
NO Prickle Longer fibers mean no pesky ends sticking out to scratch you. Perfect for baby & items worn next to skin.
Pill-resistant & Hard Wearing Longer fibers stay spun and last, fewer pills. Great for frequently worn & heirloom items.
Amazing Stitch Definition Smooth yarn results in delicious, well-defined stitches. Amazing for cables and ribbing on sweaters.
Worsted Yarn
100% Merino Wool
175 Yards (160 meters)
3.5 Ounces (100 grams)
4 Inches = 18-22 stitches on US 5-7 (3.75-4.5mm) Knitting Needles
Machine Wash & Dry

---
We Also Love...