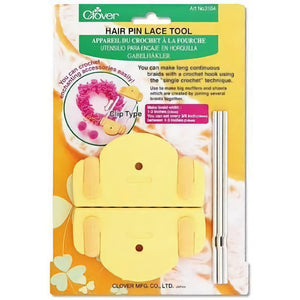 Clover Hair Pin Lace Tool
The Clover Hair Pin Lace tool offers the flexibility to add as many stitches as you like by featuring slots in its bars for threading yarn.
As you advance in your lacework, you can reposition the top bracket, remove the lower one, and smoothly slide your stitches onto the yarn to maintain their alignment.
For added convenience, leave a few stitches on the tool, reattach the lower rod bracket, remove the top one, and resume crocheting. The crochet hook is designed for easy rotation, eliminating the need to thread it through the bars; instead, it can simply glide over the top.
Helpful Hint: To enhance your comfort while working, consider placing a pillow on your lap to support the tool. When you've lowered stitches onto the yarn, a neat trick is to wind them around the bracket in a figure-eight pattern. This prevents them from becoming tangled as you continue turning.
Review
'Best small hairpin lace loom widely available'
Very well designed as are most Clover products. Built in guideline holes mean you can make long strips. Set at the narrowest (1cm) most handled hooks will be too wide to pass between the pins. - A. Bear
Handy Tip: To keep an accurate stitch count as you make progress, simply tally the stitches worked on the bars. Insert a removable marker every 25 stitches and slide it down with your work. This method streamlines the counting process, sparing you from the need to recount repeatedly.
#3104 Yellow