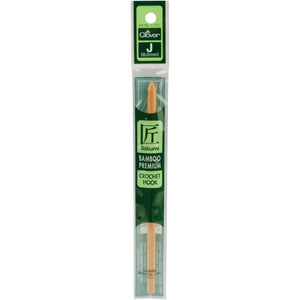 Takumi Bamboo Premium Crochet Hook by Clover
Takumi Bamboo Premium Crochet Hooks are the ultimate tool for crocheters who appreciate the perfect blend of comfort, functionality, and craftsmanship.
Crafted with care and precision, this crochet hook is designed to enhance your crocheting experience and bring your projects to life.
Made from high-quality bamboo, the Takumi Bamboo Crochet Hook offers a host of benefits that make it a favorite among crocheters.
Bamboo is known for being 60% lighter than aluminum, reducing hand fatigue during long hours of crocheting.
Its natural warmth and softness make it a joy to hold, providing a pleasant tactile experience with every stitch.
The smooth surface of the Takumi Bamboo Hook ensures that your yarn glides effortlessly, creating even and consistent stitches.
As you use it more and more, the bamboo becomes smoother, further enhancing its touch and making it a delight to work with.
The lightweight design and precisely shaped hook enable easy handling and maneuverability, allowing you to crochet with ease and precision.
This package includes one size J10 (6mm) crochet hook, perfect for a variety of projects. Whether you're crocheting quick blankets, bulky scarves, or oversized sweaters, the Takumi Bamboo Crochet Hook delivers the versatility and reliability you need to bring your creative visions to fruition.
Crafted with meticulous attention to detail, the Takumi Bamboo Premium Crochet Hook by Clover exemplifies the brand's commitment to quality and innovation.
With its natural touch, lightweight construction, and exceptional ease of use, this crochet hook is sure to become an indispensable tool in your project bag.
---
We Also Love...