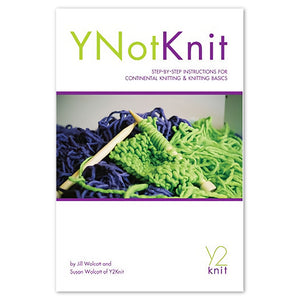 YNot Knit: Step by Step Instructions for Continental Knitting & Knitting Basics
Note: This book has been marked down to half price because it bears some minor water damage. We have checked it and all the patterns are still usable.
Continental knitting, or knitting with the yarn in your left hand, is more ergonomic and easier on your hands and arms.
YNotKnit is the must-have guide whether you're a new or experienced knitter.
If you want to know how to continental knit,  YNotKnit contains step-by-step instructions, detailed illustrations, and exercises and projects that are easy to follow, making this the perfect guide for any knitter.
Continental knitting is easier on your body, as well as more accommodating when knitting in small spaces, making it the perfect method when you're knitting on airplanes, public transportation, or while waiting anywhere.
About the Author
Jill Wolcott lives in San Francisco with her husband Mitch. As Creative Director for Y2Knit, Jill chooses designs and silhouettes for Y2Knit patterns, follows trends in color and design, and designs classes for Y2Knit events. Jill also teaches college-level product development and fashion design classes. An award-winning teacher, Jill teaches knitting at all levels. Although knitting as fast as she can, Jill is never able to keep up with her ideas.
Susan Wolcott lives in Funkstown, MD after spending several years in the Washington, DC area. As Director of Events and Operations for Y2Knit, Susan manages the Y2Knit yarn shop, general operations, and events. Susan began her professional career as an RN and has a Master's in Organizational Learning. She is the author of Knitter's Notes. Susan loves to start new knitting projects and regularly teaches Continental knitting to new knitters.
Published by Y2Knit on March 21, 2006
Spiral-bound, 107 pages, English
---
We Also Love...