Round Hat Loom with Removable Pegs
This loom is super versatile, you can use it with either Bulky or Worsted weight yarn. This fantastic loom offers an easy to use ergonomic design made from super strong plastic, including the knob on the outside to secure your yarn. The light weight and compact size makes this loom easy to handle and quick to wind the yarn around the pegs while the other hand is holding the loom steady.
With every peg in the loom gauge is ~⅜", with every other peg in the loom gauge is ~⅝"
For Bulky Weight yarn, insert the green pegs into every other hole. For Worsted Weight yarn add all the pink pegs into the empty holes. If you purchase a second loom, you can set up one for worsted yarn and one for bulky yarn! To insert the pegs, all you need is a small hammer to tap them in. Be sure to place the peg in so that the side with the ridge is facing out, and NOT the inside of the loom. This ridge will be used to insert your tool when you are lifting the bottom yarn over the top yarn. The pegs can be easily removed by using the other side of the hammer.
You can also use this loom to create circular woven piece to hang on your wall as dreamcatchers or as placemats.
If you have any questions, feel free to give me a call Toll Free on 1-888-538-2725 if you have any questions.
See the video at the bottom of this page on how to insert and remove pegs.
This Pack Includes
23cm green loom with 36 green pegs and 36 pink pegs
Weaving Tool
Seaming Needle
Hat Instructions
For more ideas on what to do with your knitting loom, and how to use it, visit our blog: 
Getting Started with your Knitting Loom
If you need any yarn for your loom I'd be happy to work with you to find the perfect skeins for your project, give me a call on 1-888-538-2725.
---
We Also Love...
Customer Reviews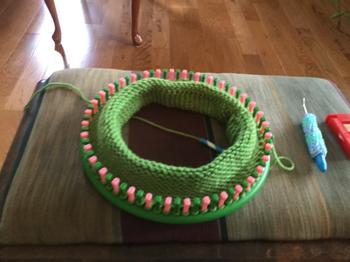 07/29/2020
I recommend this product
Excellent knitting loom
Love this loom with all the pegs filled. I can use one strand of worsted weight yarn and it makes a beautifully knit hat that looks like hand knitting. Much finer than my other looms where you have to double up the yarn or use heavy weight yarn.
Anonymous

Canada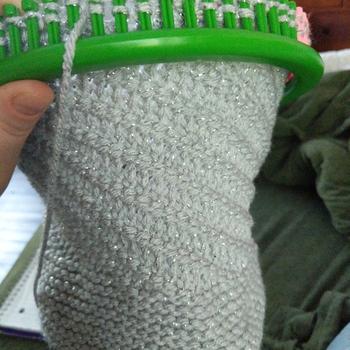 05/09/2020
I have the whole set but I needed a replacement, and this was the only place I could find the single loom. It was shipped quickly which I love haha
04/24/2020
Perfect loom. Thank you YarnDesignerBoutique. Will purchase again. Stay safe.
03/02/2020
Prompt Delivery
I haven't had time to use this loom yet, but it arrived promptly and in perfect condition. Just what I need to make Fair Isle hats!