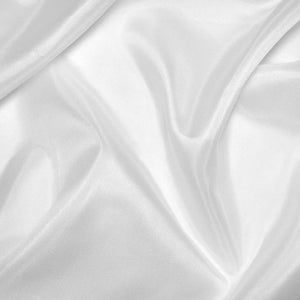 Blank White Silk Fabric for Dyeing, 45" Wide Sold by the Yard
With the success of our silk scarves to dye we thought it would be great to offer silk fabric to truly unleash your creativity.
Now you can dye your fabric, and use it to sew any kind of garment you like. I'm excited to get started on my first caftan!
Silk Fabric Details
100% Habotai Silk
8mm thick, 45" wide
You can use Jacquard Acid Dyes to dye this silk fabric
We found that silk shrinks  by about 10% in Length and 2% in Width
Available in cut yardage, price is per yard, choose your number of yards
Machine wash in any temperature water
A few more details...
Silk Fabric shrinks. We found that this shrinks 10% in Length and 2% in Width. None of our fabrics are considered pre-shrunk. On each type, we have done tests with a hot wash and dryer and tried to give you an idea how much it will shrink in length and width, but it can vary from batch to batch, so this is just intended to be a guide. Remember to allow for shrinkage!
Width measurements are approximate - they can vary a bit from shipment to shipment. Some fabrics have a woven selvedge and some unwoven.
It is natural for silk to have some irregularities - it's the nature of 100% silk fabric - surface variations are to be expected and are in no way to be considered defective.
"mm" means momme, the unit of measure used to designate the weight of silk. Bigger number, heavier weight silk. Under 8mm is semi-opaque and the same thicknes as our scarves.
We are only able to sell fabric by the full yard (no fractions of yards).
Cut yardage is shipped folded in a bag.
Fabric to dye is not treated with fire retardant. Treat it if using in public art installations to conform to local safety rules. This silk cannot be used for sleepwear for children 12 and under due to Consumer Safety laws regarding flammability.
Our un-dyed fabrics are either:
"Natural" - washed, NOT bleached, NOT optically whitened (known as Greige Goods - pronounced gray, also the true definition of PFD - Prepared for Dyeing) Most natural fabrics are a cream or dark ivory color.
Washed, bleached, but NOT optically whitened (also known by most as PFD).
Washed, bleached, AND optically whitened - we call this RTD, or Ready to Dye, as opposed to PFD. Optical white fabric glows under blacklight, so is an easy way to tell.
They all dye well. Technically, non-optic whitened fabric dyes better (however, we find it hard to see the difference). For processes like tie-dye and batik, some folks prefer optical or at least well bleached fabric so it is as white as possible in areas with no dye.

If fabric has been treated in any way, for crease resistance, permanent press, water proofing or just to look good in the store (a common practice) or to function better in it's intended use, this will reduce the effectiveness of the dye (any dye) or resist the dye entirely. The finish that was applied will keep the dye from adhering.
All of the fabrics that we offer are intended to be without such treatments and are ready to dye as is. However, when solid color dyeing, pre-washing or scouring is ALWAYS recommended! (just in case there is some residual machine oil, skin oil from handling the fabric or any other residue from the many steps along the way the fabric takes). Use Kieralon or Professional Textile Detergent and HOT water for pre-washing, and add some Soda Ash (~1 cup/wash machine load) to that mix to really scour cottons and other plant fiber fabrics (but not wools or silks), especially natural ones that haven't been bleached.
---
We Also Love...