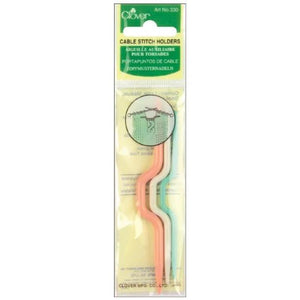 Cable needles 'Straight', Set of 3, Small, Medium, and Large
Clover's plastic cable needles feature a dip to hold your cable stitches in place and prevent them from sliding off.
This package contains three plastic straight scoop cable needles.
One in each of three sizes so you can have all your bases covered no matter what weight yarn you're working with. Plus, they come in three different colors so you can find and identify the correct needle easily.
This package contains three 3-1/2 inch long cable stitch holders in small medium and large
#330
---
We Also Love...