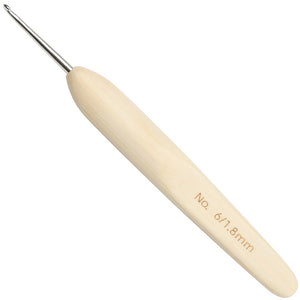 Ergonomic Crochet Hook with Metal Head & Bamboo Handle by ChiaoGoo
Experience the perfect balance of comfort and functionality with the ChiaoGoo Metal Head & Bamboo Handle Crochet Hooks.
These crochet hooks are thoughtfully crafted with a stainless steel head and a flat Chinese Moso bamboo handle, offering a comfortable and ergonomic grip for hours of crocheting pleasure.
The stainless steel head provides durability, strength, and a smooth surface that ensures your yarn glides effortlessly with each stitch.
Say goodbye to snags or catching as you create your intricate crochet projects.
The flat design of the handle fits comfortably in your hand, allowing for a relaxed and natural grip that minimizes hand fatigue and ensures optimal control and precision.
To make your crocheting experience even more convenient, each hook features a permanently laser-marked size on the handle. You'll never have to struggle to identify the size again, as it's clearly and permanently etched onto the handle, making it easy to select the right hook for your project.
This package includes one crochet hook, so you can get started on your next project right away! Whether you're a beginner or an experienced crocheter, the ChiaoGoo Metal Head Bamboo Handle Crochet Hooks are designed to meet your needs and enhance your crafting journey.
Elevate your crochet experience with these high-quality hooks that effortlessly combine modern innovation with the timeless beauty of bamboo.
---
We Also Love...