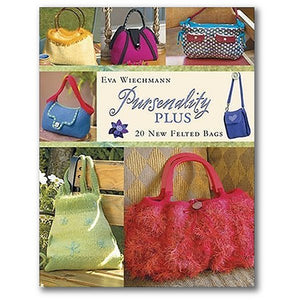 Pursenality Plus, 20 Felted Handbags by Eva Weichmann (Damaged)
Knit & Felt a Purse for Every Occasion
At the beach, try the tropically fringed "Capri", commuting time calls for the "Pony Express" saddlebag, and the couture inclined have a wealth of choice, from the hound's-tooth "Mrs. Watson" to the Chanel-chic "Jackie O".
And if you're looking for just a small felting project, go for the eyeglass case or stripy cosmetics pouch.
Twenty all-new purses, bags, and totes
Bag embellishments range from grommets, pockets, and buckles to beautiful felted flowers
Fast projects are worked on big needles with 100% wool and a splash of novelty yarns; easy step-by-step instructions make felting a breeze
Bonus--includes patterns for a cell-phone holder, an eyeglasses case, and a cosmetics pouch
Patterns Include:
Bags
All-in-One
Black-Tie Affair
Blue Sky
Capri
Carmen
Crimson
Designer Bag
Double Delight
Girls Night Out
Iris
Jackie O
Lagoon
Little Giant
Mrs Watson
Pony Express
Polar Bear
Purple Haze
Roses are Red
Strictly Business
Tutu
Accessories
Cosmetics Pouch
Eyeglasses Case
Cell Phone Holder
---
We Also Love...