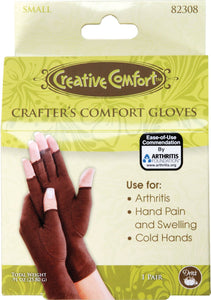 Compression Gloves, Crafter's Comfort
Crafters Comfort Gloves provide relief for arthritis, hand pain and swelling and cold hands.
Since discovering these gloves- I absolutely live in them, I use them for all my knitting, working at the computer, driving, you name it. I have a couple different pairs I rotate throughout the week. They are super comfy and help to alleviate my arthritis pain.
Seamless, lightweight, soft cotton/lycra compression knit for a snug fit that warms and supports the hand.
Unique design helps improve circulation, reduce swelling and relieve arthritis pain.
Open fingertips allow full freedom to feel and grip all day.
Wear by themselves or as glove liners for maximum comfort while you are doing your favorite activities.
Washable for easy care.
Soft cotton & lycra blend allows skin to breath and keeps hands dry.
Available in small, medium and large (each size sold separately).
 Determine Your Size:

Measure the back of your hand across your first set of knuckles.

Small = up to 3 ⅛ inches
Medium = up to 3 ½ inches
Large = up to 4 inches

92% cotton, 8% spandex
Care: Hand wash cold. Air dry.
This package contains one pair of Comfort Gloves.
---
We Also Love...