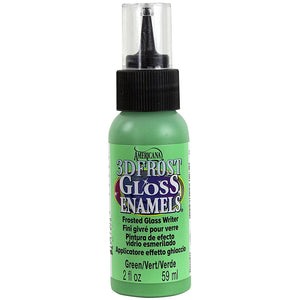 Glass Paint 3-D Liner, Gloss Enamel Writer, DecoArt 2-Ounce
DecoArt Gloss Enamel Writers feature a fine tip for use straight out of the bottle.  It comes as opaque or frosted.
Use these writers to easily add dimension to any craft project. Use for personalizing, outlining and simple dots or swirls. Gloss Enamels are ideal for use on glass, glazed ceramics, and other non-porous smooth surfaces creating a stained glass or colored glass look.. 
All of the Gloss Enamels are compatible with one another and come in a wide variety of vibrant colors.
How to Use Crystal Gloss Enamels:

Before painting, wash the glass in hot soapy water using a soft dishcloth. Price labels and stickers usually remove easily when soaked in hot water. Rinse any soap residue away with warm or hot water, then dry the piece with a soft, lint-free cloth or paper towel.
Handle glass carefully to keep it free of fingerprints, and use rubbing alcohol and a paper towel to remove any prints or smudges.
Shake your paint well. Apply 1-2 coats with a brush or sponge.Allow the painted glassware to dry at least 4 days before use.
For a dishwasher-safe finish on oven-safe surfaces, place finished piece in a cool oven, set temperature to 200°F, bake for 30 minutes, then cool with oven door partially open.
Not for direct contact with food.
Suitable for indoor or outdoor use. Cleans up with soap and water.
Tips for Gloss Enamels

Use a hair dryer on a low setting to speed up the drying time if necessary. A fan can also be used. This can be especially helpful when working on cylinders or pieces with multiple sides.
Keep paint away from food surfaces and the areas that will come in contact with your mouth. Although the paint is non-toxic, you still don't want to ingest it.
Clean up small imperfections in still-wet paint by using a wet brush, toothpick, or paper towel to gently wipe off the excess wet paint. To remove all wet paint from a surface, soak the item in warm water.
Correct mistakes in dry paint by using a razor blade to carefully scrape or trim off imperfections.
If you are combining two glass paint products with different baking times and temperatures, always use the lower temperature and time.
To clear a clogged 3D writer tip, remove the cap and insert a toothpick from the inside of the cap to push the clog out. Be careful not to insert the toothpick from the outside in, or you will push the clog back into the bottle.
To create a finer writing tip, attach a 1" piece of cellophane tape diagonally to the writer tip, then place a finger on the part of the tip where the tape touches and rotate the bottle to create a tapered opening.
Hold the bottle's tip slightly above the surface as you work for best results and smoother lines.
For paint on colors to complete the look check out our Crystal Gloss Enamel Paints.
Watch the video below to see these paints in action:


---
We Also Love...