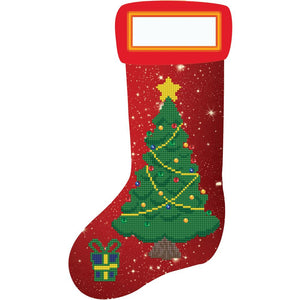 Christmas Tree, Diamond Dotz Stockings
Add Extra Sparkle to Your Stockings with this Diamond Encrusted Christmas Tree
This Diamond Dotz Christmas Tree Stocking Kit makes a great gift for that crafty person on your life. This delicious shimmering holiday tree will bring festive Christmas vibes to any home this holiday season.

This beginner level mosaic kit is suitable for anyone aged over 13 years.


Kit Includes:

18" Christmas Tree design on adhesive stocking
6 Colors of pre-sorted square diamond mosaic pieces
1 Stylus for Picking up your diamonds

1 Tray for Holding Diamonds

1 Wax Tab

Re-Sealable Storage Bags

Labels to mark your gems

Instructions
If you would like extra tools for diamond setting (in case you lose one, or for multiple people to work at the same time), you can find our accessories kit here.
Design: Christmas Tree
Size: 18 inches (45.75cm)

 How To Diamond Dots your Christmas Tree Stocking...
The stocking has a pre-printed self-adhesive design on it so the mosaic pieces will stick on easily and stay on. The stocking and jewels are coded so you can see exactly where to place each jewel, just like a cross stitch chart.
Just dip the Stylus in wax.

Pick up the diamonds by their faceted side.
Place it onto the matching square on the sticky print.
The stocking comes with a clear protective sheet over the top, so you can just peel it back as much as you need in order to do the area you're working on. As long as you put the sheet back down you can roll up the stocking and take it will you or store it until the next time you want to work on it.
---
We Also Love...