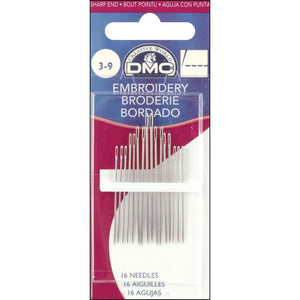 DMC Embroidery Needles Sizes 3-9
Also known as Sharps, embroidery needles have sharp tips that pierce the fabric as you stitch, and larger eyes for accommodating floss and embroidery thread.
Long eye for easy threading with multiple strands of floss
Very sharp point to pierce close-woven fabrics
Use for surface embroidery, smocking, cutwork and crazy quilt embroidery
Needle Sizing: The diameter of the needle you select should always be similar in width to the thread you will be using. If the needle is too narrow, the thread will not pass easily through the needlework fabric, which damages the thread. This is often the cause of fraying and the dreaded fuzzies. 
Size 3 use with 6 strands of floss
Size 8 use with 3 strands of floss
Size 9 use with 2 strands of floss
Pack of 16 nickel-plated stainless steel needles.
DMC PRO TIP
 Remove the needle from your project when you are not stitching to prevent unsightly holes that can stretch your fabric or even rust over a very long period of time!
---
We Also Love...