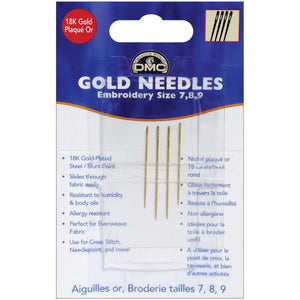 Gold Embroidery Needles, Sizes 7, 8, 9 - Pack of 4
DMC Gold Embroidery Hand Needles are premium quality gold plated needles. Designed to slide through fabric easily, they are rustproof, resistant to both humidity and body oils, and allergy-resistant for sensitive skin.
Featuring a blunt tip you can use these needles for either embroidery or cross stitch.
This 4-needle pack includes sizes 7, 8, and 9.
---
We Also Love...