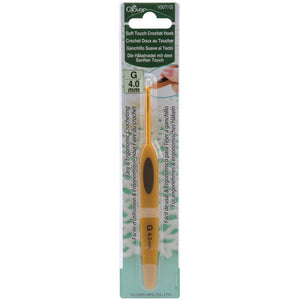 Ergonomic Soft Touch Crochet Hook
Clover's Ergonomic Soft Touch Crochet Hook will make crocheting with arthritic and aching hands more enjoyable. I love to use these hooks for larger projects. I can crochet for much longer with the Soft Touch Hooks than with a regular crochet hook.
Available in the most popular sizes. We also carry very tiny starting from .5mm sizes for lace making and tatting.
Features:
Soft touch and comfort grip for easy crocheting
Comfortable and ergonomic design to fit perfectly in your hand
Optimal shaped hook for smooth working.
The hook is made of Aluminum and the handle is made of ABS Resin.
---
We Also Love...