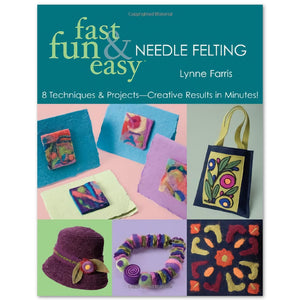 Fast, Fun & Easy Needle Felting: 8 Techniques & Projects - Creative Results in Minutes!
Note: This book has been marked down to half price because it bears some minor water damage. We have checked it and all the patterns are still usable.
Unleash your crafty side with the Fast Fun & Easy Needle Felting guide
Perfect for beginner needle felters, this guide provides an introduction to the art of needle felting, teaching you the necessary supplies, techniques and projects for creating beautiful felt pieces. Follow along step by step with detailed instructions to create a variety of projects, from animals to jewelry. Jump start your journey in felting with Fast Fun & Easy Needle Felting guide today!
About the Author
Lynn Farris taught art at the college level before entering the craft industry. She has designed for the McCall's and Simplicity pattern companies, and has authored several books on fiber crafts. Lynne has appeared on HGTV's The Carol Duvall Show, The Discovery Channel's Lynetty Jenning's Design, and PBS' Paint, Paint, Paint! Lynne lives in Atlanta, Georgia.
Published by C & T Publishing on November 15, 2006
Paperback, 48 pages, English
Dimensions: 8.58" x 0.17" x 11.12"
---
We Also Love...