Circular Flower Loom with Adjustable Pegs
This small round 20 peg knitting loom comes with a yarn needle, loom pick, yarn guide and instructions to make a flower.
This mini loom is super versatile- use it to make larger flowers than you can get with a traditional flower loom, or use bulky yarns to create a wrist warmer or cuff.
Loom Size is 9 cm in diameter with 20 pegs.
With every peg in, the loom gauge is 3/8", with every other peg in the loom gauge is 5/8"
Use different weight yarns! Lightweight yarns will create lacy loose flowers, while bulky yarns make a warm wrist warmer, cuff or a more solid knit flower.
Our new design makes it easier and faster to knit than other looms! It's made from 100% brand new and high quality plastic which is super strong, even including the knob on the outside to secure your yarn.
The new peg design with a hook indent makes it easier to pluck your yarn for knitting.
Our flexible design, features insertable/removable pegs, so you can use either Worsted Weight yarn or Bulky Yarn, simply by how you insert your pegs. If you need help finding the right yarn for your project give me a call on 1-888-538-2725, and I'd be happy to find you your perfect skein.
This Pack Includes:
1x Pink Round Knitting Loom with 20 Pegs (9 cm Diameter)
Basic Instructions for Making a Flower
Knitting Loom Hook
Seaming Needle
Yarn Guide
Plastic Carrying Case
Check out this video for how to make a flower with this loom:
Setting Up Your Knitting Loom
To insert the pegs, all you need is a small hammer to tap them in. Be sure to place the peg in so that the side with the ridge is FACING OUT, and NOT the inside of the loom. This ridge will be used to insert your tool when you are lifting the bottom yarn over the top yarn. The pegs can be easily removed by using the other side of the hammer. If you have any questions or need any help with this loom, please don't hesitate to give me a call Toll Free on 1-888-538-2725.
Here's a video on how to insert and remove the pegs
---
We Also Love...
Customer Reviews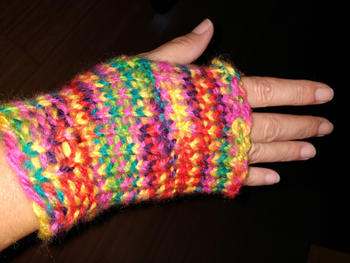 08/12/2020
I recommend this product
20 peg flower loom
I absolutely love this. Although I did not purchase for making flowers, it is perfect for fingerless gloves!!
Melissa C.

United States
10/28/2021
I recommend this product
Pink Knitting Loom 24-Peg
I like the size of this loom and the gauge. I think I'll be making a number of things with it. Thanks.
Frances K.

United States
10/28/2021
Yarn Designers Boutique
Yesss!! That's what we like to hear. Tag us on instagram @yarndesignersboutique so we can see what you're making :)
06/04/2021
Loom
Love the loom and was so happy you had this size by itself. That we do not have to order a whole set to get one. Thank You so Much!!
clara s.

United States
05/29/2020
It came quickly and was exactly the size I've been looking for
04/24/2020
Finally found what I've been looking for!
I have been looking for this size for ages. Thank you YarnDesignerBoutique. Excellent shipping. Will be back.
03/02/2020
Like this loom
Very nice loom got this to make barbie clothes and to make sunflowers on. Very fast shipping
Susan D.

United States