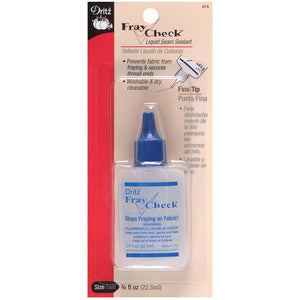 Dritz Fray Check, Stop Fraying Fabrics
Stop Fraying Fabric in its Tracks
Dritz Fray Check is a liquid fabric glue that prevents your fabric from fraying and secures the ends.
Withstands repeated laundering and dry cleaning.
Will not stain or discolor fabrics (may dry darker on some, though).
Always test on an inconspicuous area of your fabric.
This package contains one ¾ oz bottle.
How to Stop Fraying Fabrics: 
1) Trim loose threads and frayed area.
2) Apply Dritz Fray Check to the fraying or unseamed edge, and use your fingers to spread it out.
(To use on ribbon: Apply the fray check to where you want to cut, allow it to dry, then make your cut. The glue will hold the edge of your ribbon together super tidy.)
#674
---
We Also Love...