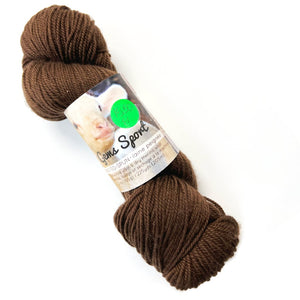 Gems Sport by Louet
Gems sport is a lightweight worsted spun merino yarn with exceptional drape and stitch definition.
What makes worsted spun different? All fibers are combed to remove the short fibers. The remaining fibers are then aligned & spun. Gems yarns use only merino fibers with a 90mm (3.6") minimum staple length.
NO Prickle Longer fibers mean no pesky ends sticking out to scratch you. Perfect for baby & items worn next to skin.
Pill-resistant & Hard Wearing Longer fibers stay spun and last, fewer pills. Great for frequently worn & heirloom items.
Amazing Stitch Definition Smooth yarn results in delicious, well-defined stitches. Amazing for cables and ribbing on sweaters.
Sport Yarn
100% Merino Wool
225 Yards (205 meters)
3.5 Ounce (100 grams)
4 Inches = 22-26 stitches on US 3-5 (3.25-3.75mm) Knitting Needles
4 Inches = 16-20 single crochet on Size E-H (3.5-5mm) crochet hook
Machine Wash Warm & Tumble Dry Low. Lay Flat to Finish.
---
We Also Love...