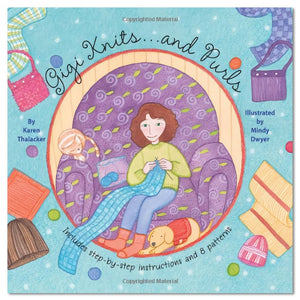 Gigi Knits... and Purls, Knitting Patterns for Kids
Gigi Knits... and Purls is the ideal knitting book for kids!
Remember Gigi, that cool and crafty girl who made knitting an unforgettable adventure? Well, she's back, and this time she's here to show budding young knitters the magical world of purling and how to blend knit and purl stitches with her infectious "You can do it!" spirit.
What Makes Gigi Knits... and Purls So Special?
Fun Poems and Whimsical Illustrations: Get ready for a knitting journey like no other. This book is tailor-made for children aged 8 to 12, featuring charming poems and delightful illustrations that will inspire them to expand their knitting horizons or embark on their very first knitting project!

A World of Creative Possibilities: Choose from an array of eight exciting projects, including a simple scarf, a cozy hat, a trendy purse, and even adorable mats for furry friends. With Gigi's guidance, young knitters can create something special for themselves, their family, friends, or even for charity.

Kid-Friendly Tips: Gigi's pages are brimming with knitting tips designed specifically for kids. With her expert guidance, knitting becomes a breeze, and young crafters will find themselves growing more confident with each stitch.
Gigi McGreedy initially introduced kids to the joy of knitting with Knitting with Gigi, but that book focused solely on the knit stitch. To explore the wonderful world of purling, young knitters can now continue their journey with Gigi Knits... and Purls, brought to life by Karen Thalacker with enchanting illustrations by Mindy Dweyer. This book maintains the same delightful style and format as the first one, complete with poetry, easy-to-follow knitting instructions, and a delightful selection of eight patterns to experiment with.
With Gigi Knits... and Purls, young knitters can explore the limitless creativity knitting offers, regardless of their experience or skill level.
The book kicks off with an engaging verse about knitting and learning the art of purling, followed by a quick recap of everything taught in the first book—casting on, knitting, decreasing, binding off, and finishing. Young knitters then dive into the world of purling, honing their skills by creating an all-purl swatch of garter stitch.
Gigi Knits... and Purls explores stockinette, basketweave, ribbing, and the art of seaming with the mattress stitch. While the mattress stitch drawings may not be crystal clear, with a bit of adult supervision, young crafters can certainly tackle it.
As they work their way this charming book, they'll be inspired to make knitting a lifelong hobby.
This book boasts an impressive array of patterns, including a stockinette stitch dishcloth with a charming garter stitch edging, a cozy basketweave scarf, a ribbed baby hat (with a size-up option for bigger kids), a snug ribbed scarf, a chic purse with button closures (introducing the yarn over increase), plus adorable mats for cats and a stylish coat for dogs. The patterns vary in yarn weight and needle size, with one pattern providing yardage information for added convenience.
Get your copy today and join Gigi on a knitting journey filled with imagination and creativity!
Reviews
My daughter loves it
My 10-year-old is now knitting and creating completely on her own. She is so proud of herself and loves the patterns in both Gigi books. It was explained well, and she taught herself to knit (and purl!) from the books, without tears. Highly recommended. - D. G. C.
My neighbor kids call me Gigi...
So when I saw these books I new I needed to get them because I also am an avid knitter. I have been knitting for the past 4 years. I am in a monday night knitting group. I like to knit for charity and create my own barbie doll outfits. people say I need to start selling my work but I like doing it for gifts and charity only. I am 51 and stay at home mom but my baby is now in college this is my new job and I love it knitting. - Gina Flaherty
Published by Martingale & Co Inc on August 18, 2008
Hardcover, 32 pages, English
Dimensions: 9" x 0.5" x 9.5"
---
We Also Love...