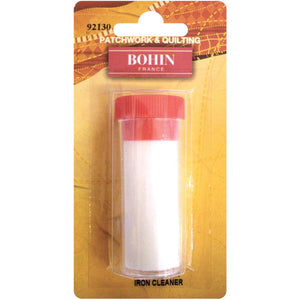 Iron Cleaner by Bohin
Iron Cleaner to Make your Iron Good as New
In our store, we love to dye silk, and we often use our irons to heat set the Jacquard Acid Dyes. Sometimes we end up getting dye on the iron. But no worries, because with Bohin Iron cleaner all we have to do is rub it over the hot iron then wipe with soft rag, and voila disaster averted. 
Use regularly to keep your iron clean from dust and dirt buildup.
Includes a 2.5"X1"X1" jar of iron cleaner.
Instructions for use are printed on the packaging.
---
We Also Love...