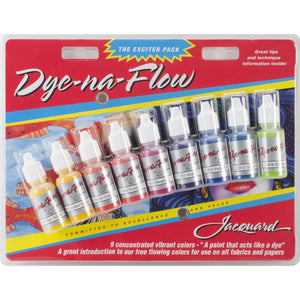 Jacquard Dye-Na-Flow Exciter Pack 9 Colors, 1/2oz Each
This Jacquard Dye-Na-Flow Exciter dyes are free-flowing, concentrated liquid color for use on any untreated fabric.
Fix the color by ironing it (sandwich it between two scrap pieces of fabric in case it bleeds) and your product will be washable and dry-cleanable.
These dyes can be used on both natural and synthetic fibers, making them all around versatile dyes to keep on hand. Ideal for use on swimsuits, ballet gear, or t-shirts.
This package contains nine 0.5 ounce bottles: Chartreuse, Turquoise, Periwinkle, Violet, Magenta, Scarlet, Bright Orange, Golden Yellow, Sun Yellow. Plus two project inserts yo get you started dyeing!
Conforms to ASTM D4236.
Made in USA.
---
We Also Love...