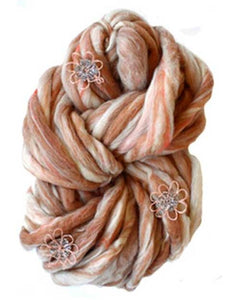 Flower Child Yarn by Knit Collage
Pair Flower Child with Wanderlust yarn, Knit Collage has created these yarns in matching colorways so you can combine the best of both worlds.
Flower Child has the added embellishment of delicate flowers which are beautifully handmade and are about 1.5 inches in diameter. 
Like Wanderlust, this yarn is lofty, luscious and all sorts of yummy in a range of gorgeous handcarded and handspun colors. Each color combination has its own unique set of fiber colors. Even though the raw materials are the same, no two skeins are completely alike because of the intense handmade process that goes into each and every skein. Flower Child is perfect for accessories and home projects.
Weight: Jumbo
Content: 100% Wool
Length: Approx. 30 yards
Gauge: About .5 to 1 stitch per inch
Yarn Weight: 200 grams
Suggested needle size: US 35 (19mm) or US 50 (25mm)
Washing instructions: Gently handwash and lay flat to dry 
---
We Also Love...