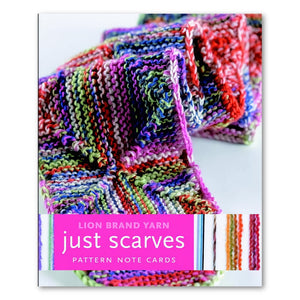 Just Scarves, Knitting Pattern Note Cards
Much more than a knitting pattern book, these Tri-Fold Pattern Note Cards, are designed to make sharing knitting tips with friends a breeze!
This charming box includes 12 full-color cards, each featuring one of four different knitting patterns. This card format makes it simple for you to jot down tips and tricks to send to your fellow knitters.
The cards are perfectly sized for your knitting bag, ensuring you'll have them on hand whenever you need to pass along your expertise.
But that's not all!
They come in an adorable keepsake box which serves as the ideal storage solution for not only these note cards but also your yarn labels and essential knitting notions once you've shared your knitting wisdom.
This 12-card set, complete with 13 envelopes, measures a compact 4 13⁄16 x 5 3⁄16 inches, and it's presented in a beautifully drawered keepsake box for easy organization and retrieval.
Share simple and easy patterns with your fellow knitters using these Tri-Fold Pattern Note Cards.
Published by Potter Style on March 7, 2006
12 Cards, English
Dimensions: 4.78" x 1.53" x 5.73"
---
We Also Love...