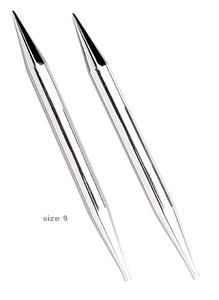 Nickel Plated Interchangeable Needle Tips, Knit Picks
Knit Picks' Nickel-plated glass-like surface allows your stitches to move freely while the hollow brass tube is extremely lightweight for hours of comfortable knitting.
The sharp, gradually tapered knitting needle points make working stitches a breeze, slipping easily between stitches, so even complicated cables move along quickly.
You can also just put a needle tip on one and and a stopper on the other end (comes with the cables) and use these as straight needles just working back and forth, great for large blankets and shawls.
Knit Pick Needle Tips will only work with Knit Picks Cables which come in Green (Single Cable) or Purple (One or Two Cables).
Available in US sizes 4-17
Set of two
Needle length is 4 1/2 "
---
We Also Love...