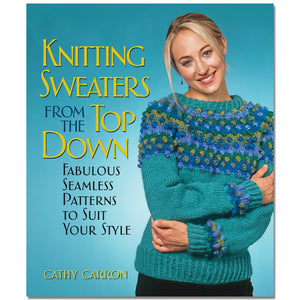 Knitting Sweaters from the Top Down by Cathy Carron
Note: This book has been marked down to half price because it bears some minor water damage. We have checked it and all the patterns are still usable.
Create your own sweater designs from a basic top down knitting pattern, adding custom shaping and details as you go!
Sweaters are the ultimate showcase for knitters—but most patterns require tricky and complicated piecing. These don't…and they look fantastic, too! The seamless, top-down knitting method eliminates challenging construction, allowing knitters to focus on the individual details that make each sweater special.
Not only does this guide thoroughly explain how the technique works, but it also teaches beginners how to design their own generic patterns for pullovers and cardigans in different yarn gauges. All the sweaters are organized by yarn weight, and the projects include an elegant rolled-collar pullover, dramatic capelet, and Asian-inspired top.
About the Author
Internationally renown hand knitwear designer, Cathy Carron's latest work is the sequel to 'CowlGirls' in her aptly named 'CowlGirls 2'. Ms. Carron also just published a new collection, 'Oh Boy: Knit-What-You-Mean' a riff incorporating letters, words and language in knitted fabric. Cathy's work is regularly published in magazines such as Vogue Knitting, Interweave Knits, Knit Simple, and the online magazine, Twist Collective.
Author Cathy Carron
Published by Lark Books, March 1 2007
Hardcover, 128 pages
Dimensions: 22.86 x 2.54 x 26.67 cm
---
We Also Love...