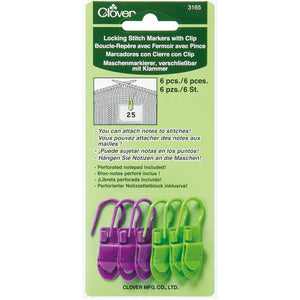 Locking Stitch Markers with Clips by Clover
Upgrade your knit and crochet game with Locking Stitch Markers with Clips by Clover.
These stitch markers are not only practical for keeping track of your stitches but also come with an extra clip and tiny notepad for taking notes on your project.
The additional clip provides you with more flexibility in your note-taking, allowing you to attach notes to your knitting or crochet work for easy reference. You can note your stitch pattern, decreases, or any other important details that you need to remember.
Crafted in lightweight brightly colored plastic, these stitch markers are easy to see and won't create extra weight on your projects.
The locking feature means you can attach an detach your stitch marker anywhere in your project.
With 20 color coded markers in a pack, you'll always have enough to complete your projects without having to worry about running out.
These stitch markers are perfect for beginners and seasoned crafters alike, making them an essential addition to your knitting and crocheting toolkit.
Upgrade your knitting and crocheting experience with the Locking Stitch Markers with Clips by Clover. With the added convenience of an extra clip for note-taking, you'll be able to keep track of all the important details of your project and create stunning pieces with ease.
---
We Also Love...