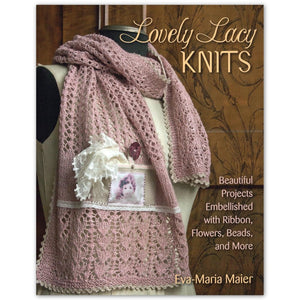 Lovely Lacy Knits: Beautiful Projects Embellished with Ribbon, Flowers, Beads & More
The exquisite lace knitting patterns featured in this book exude an irresistible softness and romantic allure, just inviting you to feel their texture against your skin.
These distinctive and feminine creations, adorned with beads, and other decorative elements, are destined to become the centerpiece of any ensemble.
In this book, you'll find intricate lace knitting patterns for scarves, shawls, fingerless gloves, slippers, and socks. Additionally, you'll learn how to employ various embellishment techniques, including sewing and beadwork, to infuse your knitted pieces with a personalized touch.
These projects cater to a wide range of skill levels, ensuring that there's something for everyone to enjoy.
Reviews
Loved it
Patterns are beautiful written.pictures so pretty.some beautiful projects to make..ill make some.crochet and knit.the socks I love and the shawl.- Peaks
Beautiful
Usually when I buy a knitting book, I only find a few patterns that I like enough to knit. I love all the patterns in this book.
I'm looking forward to knitting these patterns. My biggest problem is deciding which to knit first! - Kelly Cave
Published by Stackpole Books on March 1, 2015
Paperback, 64 pages, English
Dimensions: 8" x 0.19" x 10"