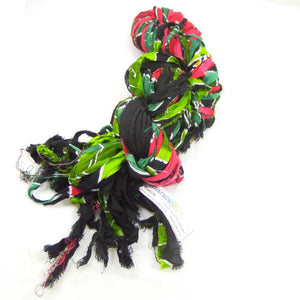 Batik Yarn by Mango Moon
The art and craft of Batik traces its history back to 2,000 years ago.
It is a traditional hand-dyeing method from Indonesia.
Mango Moon's Batik yarn encapsulates all the vividness and warmth of the tropics.
Crafted with hand-painted sarongs deemed "less than perfect" that are torn and knotted together.
Batik knits up quickly when using large needles.
It creates a stunning finished look with a bold and vibrant marbled effect, adding pattern and texture to any project.
Jumbo Weight
100% Rayon
75 Yards (68 meters)
4 Inches = 6 stitches on US 19 (15mm) knitting needles
Hand wash and lay flat to dry
---
We Also Love...