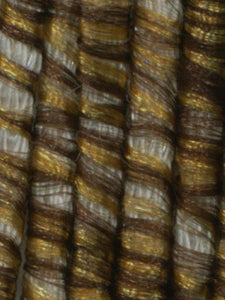 Morel Yarn, Online Linie 361
Online Linie 361 Morel Yarn is a beautiful and versatile ribbon yarn that is perfect for all of your knitting and crocheting needs!
Made from 54% cotton and 46% polyester, this speckled yarn is both soft and durable, making it ideal for a wide range of projects.
Each ball of Morel Yarn weighs 1.76 ounces (50 grams) and contains 92 yards (84 meters) of worsted weight yarn. With a gauge of 4 inches = 17 stitches on US 9 (5.5mm) knitting needles, this yarn is easy to work with and produces a lovely, textured finish that will add dimension to any project.
Machine washable for easy care, the Online Linie 361 Morel Yarn is perfect for creating all kinds of projects, from cozy sweaters and scarves to stylish bags and accessories. Its unique ribbon texture adds a touch of elegance and sophistication, making it perfect for both casual and dressy looks.
Worsted Weight
54% Cotton, 46% Polyester
92 Yards (84 meters)
1.76 Ounces (50 grams)
4 Inches =  17 Stitches US 9 (5.5mm) Knitting Needles
Machine Washable
---
We Also Love...