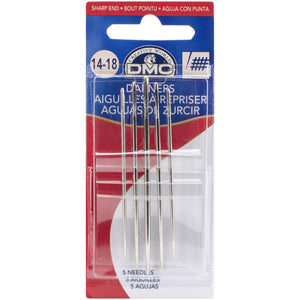 Darning Needle Set, Size 14-18
Long, sharp darners run in a double size range; cotton darners in the lower size range like embroidery needles and yarn darners in the upper size range like chenille and tapestry needles.
They carry the same threads and yarns as the other needle types, but the appropriate needle sizes vary slightly due to a difference in the eye shape.
Package size 1 ¾" x 4" contains five needles in sizes 14-18.
---
We Also Love...