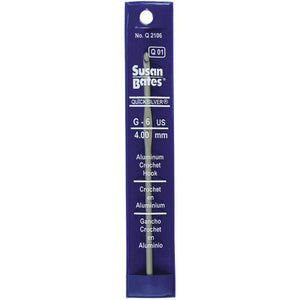 Quicksilver Aluminum Crochet Hook 5 Inches
Susan Bates Premium Quality Quicksilver Crochet Hooks by Coats & Clark are crafted with care.
These crochet hooks come in a soft, elegant grey hue achieved through a unique heat-treated aluminum alloy.
This special treatment imparts a smooth, glass-like finish to the Quicksilver hooks, making crocheting effortless and enjoyable.
One of their best features is the renowned in-line head design, which serves a dual purpose. Firstly, it reduces wrist motion, allowing for fatigue-free crocheting, and secondly, it helps you maintain a more consistent gauge, ensuring your projects turn out just as you envisioned.
For your convenience, each Quicksilver crochet hook comes in a 7" x 1" x 1/4" vinyl pouch that's perfect for storage and safekeeping. These hooks are sold separately, allowing you to select the size that best suits your crafting needs.
Experience the difference with Quicksilver Crochet Hooks – your partner for creating beautiful crochet pieces with ease.
---
We Also Love...