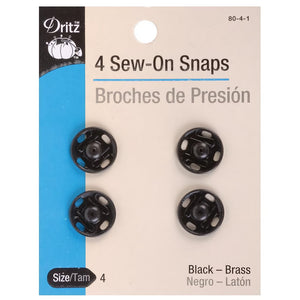 Sew On Snaps, Black, Size 4, Package of 4 by Dritz
Dritz's Black Sew On Snaps can be used for a variety of projects, including home decor, children's clothing, blouses, shirts, and more.
Crafted with brass for extra resilience and strength.
Intuitive guide holes in studs and sockets ensure precise alignment with each use.  
These quality snaps will last no matter what you're using them for, whether crafting with family, constructing the perfect garment, or making a DIY home update.
This package includes: 4x Size 4 (15mm 5/8") Black Sew On Snaps
---
We Also Love...