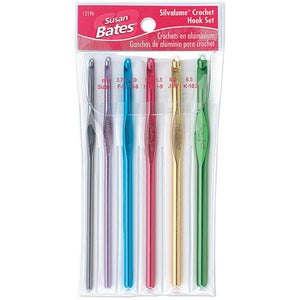 Aluminum Crochet Hook Set F-K, Silvalume
This Susan Bates Silvalume Crochet Hook Set offers the most expansive range of sizes in the Susan Bates lineup.
Crafted using lightweight aluminum, each hook has gone through a special anodizing process to remove any surface impurities, been heat treated for strength, and buffed for a velvety smooth finish.
For easy identification, each size is color coded.
Moreover, the iconic in-line head design reduces wrist motion and assists in consistent gauge maintenance.
The lightweight metal and velvety smooth finish make it comfortable to crochet for extended periods, so you can work on bigger projects with ease.
The 7" x 3½"  x ¼" vinyl case is perfect to store your hooks safely.
This set includes sizes US F5, G6, H8, I9, J10 and K10.5 (3.75mm, 4mm, 5mm, 5.5mm, 6mm and 6.5mm).
---
We Also Love...