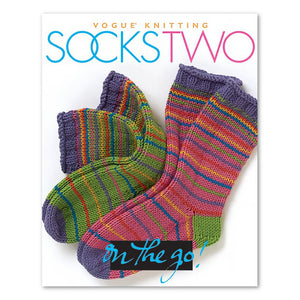 Vogue Knitting Socks Two on the Go!
Experiment with 20 fun and colorful sock knitting patterns from Vogue.
Play with color, pattern, design, and technique making each sock unique.
Discover a myriad of possibilities with Vogue Knitting Socks Two on the Go!  This compilation of 20 patterns has something for knitters of any skill level, offering infinite options for texture, stitch, and color.
Featuring designs by some of the most renowned knitwear designers, this addition to the Vogue Knitting on the Go! series contains patterns suitable for beginners and experienced knitters alike. Some more ambitious projects are even included!
Reviews
Tiny and packs a kick, these little Vogue on the Go books are so cute. They are quite small in format, fit the knitting bag or purse. They aren't very long, though (96 pages) but the patterns are colorful and wearable.
I prefer this sock book to the other books in the On the Go series because here, size doesn't matter (some of the Vogue sweaters and vests aren't sized up for large people.) Socks, however, can be worked up as-is for adults, or can be easily adapted--you can always lengthen or shorten a sock pattern.
The colors are especially appealing and new. I've been toying with the idea of a mitred square sock for some time, and lo, here is Jaya's mitered square socks, saving me the time to develop my own pattern.
While this isn't a "absolutely must-have" book, it is a welcome addition of pretty sock patterns, the price is right-- worth it for the mitred sock, in my case.
-Joanna D.
Good instruction book, I'm just starting to knit socks and found this book to be very helpful. Whenyou knit one sock sometimes you don't go back to start and finish the second one. I tried the technique explained in this book and it works!! when you finish one you have both done and it doesn't seem to take as long as when you knit one at a time!
-June S
Published by Sixth & Spring Books on October 1, 2002
Hardcover, 96 Pages, English
Dimensions: 5.75" x 0.75" x 7.25"
---
We Also Love...