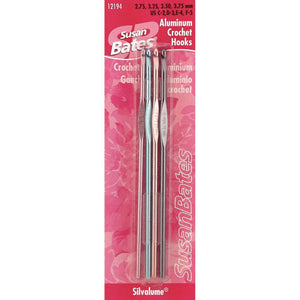 Susan Bates Silvalume Crochet Hook Set C, D, E, F
The Susan Bates Silvalume Crochet Hook Set is a must-have and an affordable option when you're just starting out crocheting.
These hooks are made of lightweight aluminum and go through a special anodizing process to get rid of any imperfections.
They're tough and durable, thanks to being heat treated. And the best part? They've got a super smooth finish that feels like velvet, making your yarn slide like a dream!
These crochet hooks have a famous in-line head that reduces wrist strain and lets you crochet for longer without getting tired.
Plus, it helps you keep a consistent gauge, so your projects turn out just right.
In this set, you'll find four hooks that cover the sizes you need:
2.75mm
3.25mm
3.5mm
3.75mm
With these babies, you're all set for a whole range of crochet adventures.
So, whether you're a beginner or a pro, the Susan Bates Silvalume Crochet Hook Set is ready to take your crochet game to the next level.
---
We Also Love...