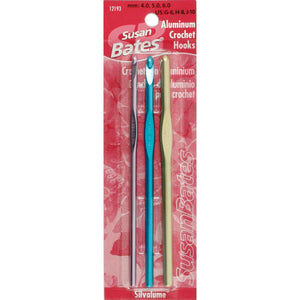 Silvalume Crochet Hook Set G, H, J, by Susan Bates
Susan Bates Silvalume Crochet Hooks are great for subtly adjusting your gauge on a range of medium weight yarns.
This crochet hook set will make your crocheting easier and more enjoyable. Its innovative features, including its light weight aluminum construction, anodizing process for surface smoothness, and in line head for wrist motion reduction, have been expertly crafted to help reduce strain and provide you with comfortable, consistent stitching for hours.
With its included sizes and color coded design, you'll be sure to find the hook you need in no time.
Within the Susan Bates family of hooks, made of lightweight aluminum, each Silvalume hook undergoes a special anodizing process that etches away all surface impurities. In addition, each hook is heat treated for strength and durability and polished for a velvety smooth finish. Each size is color coded so you can find the size you need at a glance.
Susan Bates' famous in line head helps reduce wrist motion for fatigue free crocheting and helps you maintain a more consistent gauge.
The 7" x 3½" x ¼" vinyl case is perfect to store your hooks safely.
This set includes sizes US G6, H8, J10 (4mm, 5mm, 6mm).
---
We Also Love...