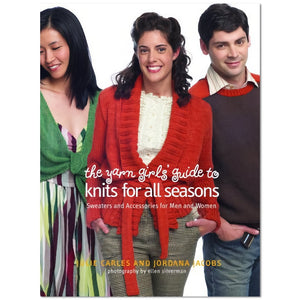 The Yarn Girls Guide to Knits for all Seasons Pattern Book
Note: This book has been marked down to half price because it bears some minor water damage. We have checked it and all the patterns are still usable.
Julie Carles and Jordana Jacobs, two yarn girls with stylish knitting projects are back to show knitters-who-can't-get-enough how to knit all year round!
While the Yarn Girls still love wool sweaters as much as the next knitter, they want designs that work for the beach as well as the ski slopes. In their fifth book, Knits for All Seasons, they offer projects for every month of the year.

These forty new patterns are conveniently organized by season: a vest for fall and a Chanel-inspired cardigan for winter. For spring, you will find a three-quarter-sleeve boatneck and a short-sleeve polo. And the perfect projects for summer include a ruffle skirt and a halter top with cabling. As always, clearly written instructions will allow knitters of all skill levels to achieve polished results. Plus, many of the patterns knit up quickly, ensuring nearly instant gratification.
Ideal for knitters in warmer climates as well as anyone who likes to wear their hand knits year-round, this is the yarn girls' most versatile book yet and one that you will return to again and again.
Authors: Julie Carles and Jordana Jacobs
Format: Hardcover
Published: July 2007
About the Authors
Inveterate knitters since college, Julie Carles and Jordana Jacobs left their respective careers in the medical and legal worlds to assume ownership of the Yarn Company, New York City's landmark knitting store, in 1997. The store has become a destination for celebrities and locals alike, who come for the quickly sold-out classes, unrivaled yarn selection, customized knitting patterns, and friendly conversation.
What Readers are Saying
The Yarn Girls' series in general is a good one for newer knitters. There are plenty of illustrations and diagrams and lots of positive encouragement in the text. Projects have clear instructions and are generally straightforward stitches and constructions and usually use a chunkier yarn.

Here they play a little more with fiber content, making more seasonally appropriate patterns. The book is sorted by season, grouping patterns accordingly. And of course, being based out of NY, their seasonal view is a little bit cooler than what I've lived in. Even the "summer" patterns would be pretty sticky in some of the places I've lived (where, yes, I still wanted to knit!). Just an FYI, if you're looking for actual warm weather knits.
---
We Also Love...