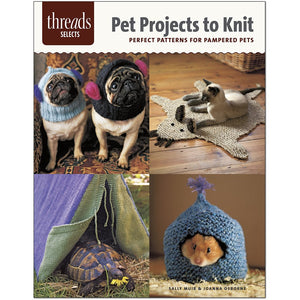 Pet Projects to Knit: Perfect Patterns for Pampered Pets
Have a ball knitting all of these 14 super cute pet projects specially designed for anything from ponies to puppies to parakeets.
What could be more fun than knitting an adorable dog hat or a snug-as-a-bug hamster house, a whiskered mouse mat for your kitty, a tortoise hibernation tent for a pet turtle, or a water lily for your goldfish. And that's not all!
This 32-page booklet is jammed-packed with adorable pet projects, knitting advice, and ideas for one-of-kind pet gifts that will win kudos for style and creativity!
With 14 projects in this booklet, this tiny 32-page booklet is a terrific value.
Contains step-by-step instruction for pretty, clever projects that knitters of all levels can make in a weekend, a day, or even a few hours.
About the Authors
Sally Muir and Joanna Osborne run their own knitwear business, Muir and Osborne (www.muirandosborne.co.uk). They have a shop in London and export their knitwear to stores in the U.S., Japan, and Europe including Barneys, Saks, Liberty, and The Cross. They won the UK Fashion Export Small Business Award in 2002 and several pieces of their knitwear are in the permanent collection at the Victoria and Albert Museum in London. This book was featured on The Martha Stewart Show.
Paperback, 32 Pages
Publisher: Taunton Press
Publication Date: September 24. 2013
Dimensions: 8.5 x 10.88 inches
---
We Also Love...