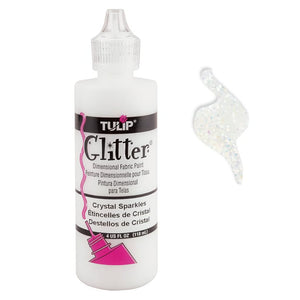 Glitter Fabric Paint, by Tulip 4 oz
This glitter puffy paint is perfect for adding texture and dimension to all your fabric and garments.
Plus you can use it on wood, glass, ceramics, canvas and more!
It's easily cleaned up with water and and non-toxic, making it the go to fabric paint for fun family projects.
Use glitter puffy paint to decorate your own t-shirts, shoes, tote bags, pillows and chair cushions, your imagination is the limit!
Once dry the paint will be super shimmery and adhere strongly to your fabric making it machine washable for many, many cycles.
4 oz Bottle with easy application tip and specially designed cap.
Hot Tip:Store your bottles upside down with cap on to prevent any air bubbles from forming and to keep your paint fresh and ready to use.
Paint conforms to ASTM D4236. Made in USA.
---
We Also Love...