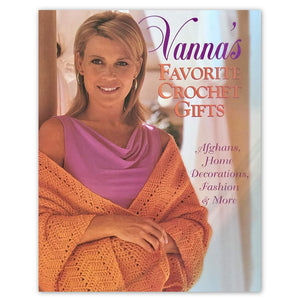 Vanna's Favorite Crochet Gifts, Crochet Patterns
Vanna's Favorite Crochet Gifts is an enticing compilation of crochet patterns that include afghans, home decor, fashion items, and beyond.
With comprehensive step-by-step guidance and numerous accompanying photos for each project, this book caters to you, whether you're a novice, or experienced crocheter.
This captivating crochet book unveils previously unreleased patterns for blankets, baby gifts, fashion accessories, home embellishments, and much more!
Every piece has been meticulously designed for Lion Brand Yarn, and all instructions have been rigorously tested and endorsed by Vanna White.
Reviews
Designs for things lovely and practical
This book has lovely designs for afghans, shawls, jackets, slippers, sweaters, hats, and a pocketbook. The designs are varied, pretty and uncomplicated, and they don't rely on expensive or hard-to-get yarns. I highly recommend this book! - nclovely1
Good resource, lots of ideas
I have always found Vanna's books to be a valuable resource of ideas. Her patterns are usually easy to intermediate so I can do them with easy. Fairly large print so that reading is easy. Note that most of her stitches for her patterns can be found elsewhere, but the way she puts the patterns together and the way she writes the patterns is the asset of her books. -Dandelion
Published by Leisure Arts in December 2001
Paperback, 144 pages, English
Dimensions: 11.12" x 8.46" x 0.35" inches